Classic slingshots
What's better than a sunny morning out in the woods? I tell you: A warm sunny morning out in the woods with a slingshot in the hip pocket! The biggest advantage of a non-wristbraced slingshot is that you can carry them all day long without wear, even without people noticing you do. The classic designs of Bill look simple, but if you take a closer look, you'll find many great features, such as the small aiming marks on the fork end. The tapered flat bands are definitely among the best ones I ever tried. (Bill sometimes sells them on ebay, and I highly recommend them). Bill was one of the first shooters to realize and promote the advantages of flat bands. The slingshot community owes him a lot for his restless contribution to our sport.
---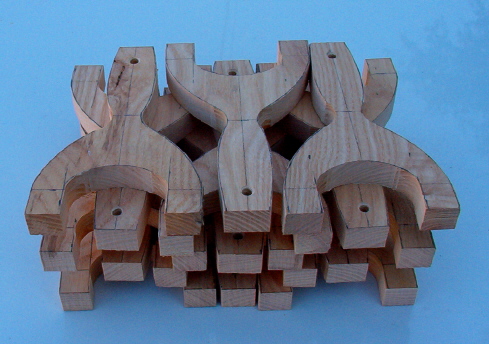 Some Ash forks, waiting to get turned into a finished slingshot.
..and two finished slingshots, along with the bands. Note the moulds punched into the pouch, they make you center the pellet automatically.
---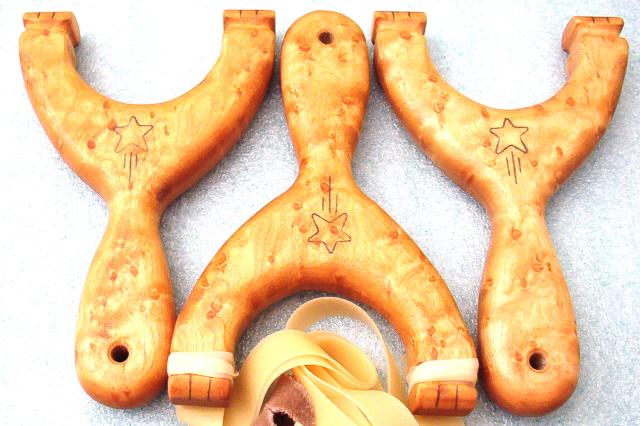 Same model, crafted from beautiful birdseye maple. I consider, Bill's classic model as one of the best slingshot designs ever: It is the archetype of a universal slingshot that fits almost every shooter, is relatively easy to reproduce, has a good sight picture, a reasonable saftey margin in its fork opening and no unecessary clutter. There's a reason why people call it the "slingshooters slingshot".
---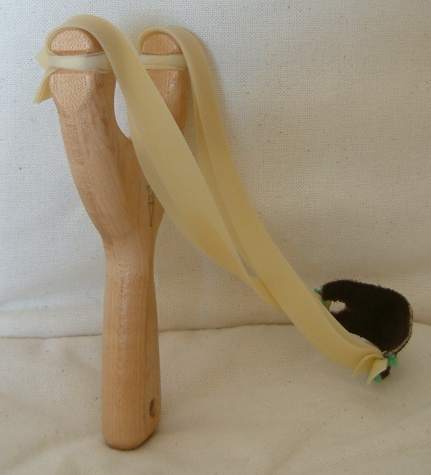 I'm the proud owner of this model. You can see the shoot-over-design, and how the bands are attached with the help of small latexd strips. Thanks, Bill!
---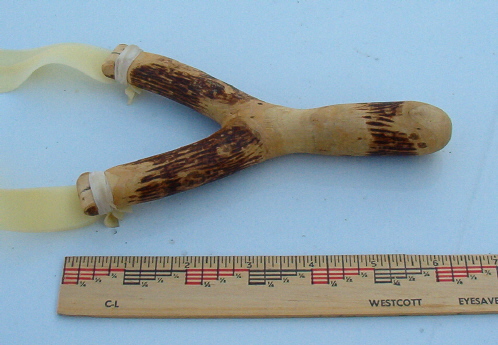 Classic tree fork slingshot.
---
Basically, this is the same slingshot as the first ones on this page, but beatifully enhanced by Bills neigbour. He must be a real gifted craftsman!
---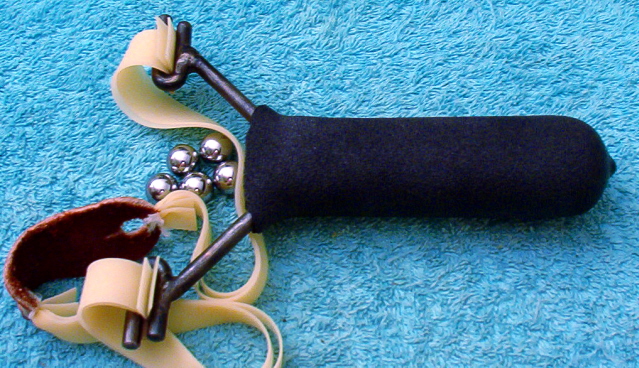 The "Flatman" is one of Tex' favourite models. It is made from bent and welded steel, with a foam grip handle for comfortable holding. Have a look at the type of attachment, it allows you to change and adjust bands in seconeds and gives you all advantages of the "shoot over" design.