Megaline is an Italian slingshot company. The brand name is not really known in the slingshot community, but the Megaline models are quite a common sight in European countries.
---
David / Target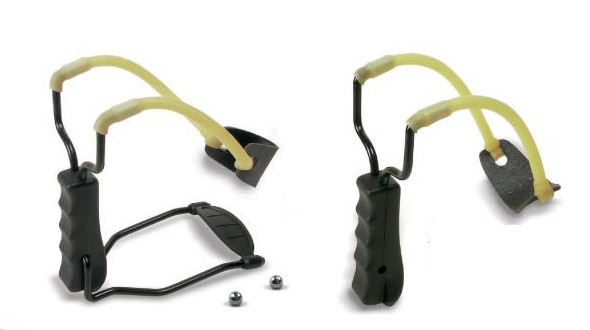 Classic folding-type slingshot. Model "David" has no wristbrace, model "Target" has a foldable brace.
---
Dragon / Dragon1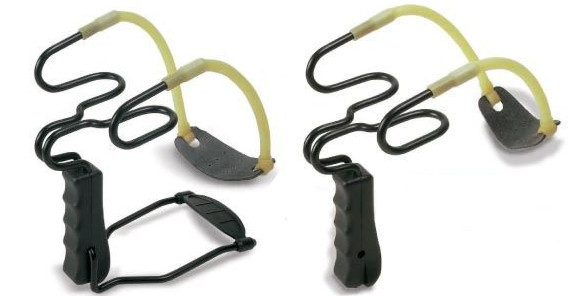 The Dragon models share the same brace and handle with the "David/Taget models. But the similarities end here. Instead of a tradtitional fork, the Dragons sport a pecuilar bent-wire arrangement that puts the band attachement points very high and quite far apart. I guess that the idea behind the high fork is to put the bands parallel to your shooting arm when drawing them towards the cheek. This concept sounds strange, but I once shot a "Dragon" and must say that I was pleasantly surprised. The high fork, however, results in great torque, so the don't see how the "Dragon 1" without wristbrace can be properly used.
---
Alpha 1 / Alpha / Mirage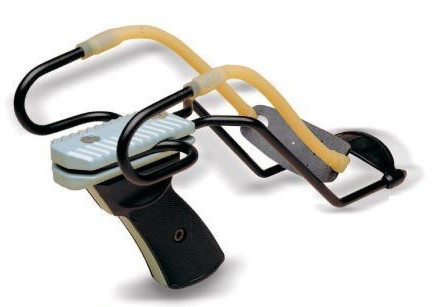 Ok, now it gets a bit confusing. Megaline offers four Models, called Alpha, Alpha1, Mirage and Mirage 2. They are heavily influenced by the famous Barnett Diablo, and have a comfortable angled pistol grip. The differences between the models appear to be small - slightly different wristbraces, and the Mirage 2 lacks the brace. All slingshot handles are equipped with threads to accomodate stabilizing weights - though these are very hard to buy, only few shops offer them for sale. These slingshots are really good shooters once you put better bands on them.
---
The "Alpha 2" tries to "improve" the Alpha design by adding two additional bands on each side. The design is flawed for two reasons. First, the two attachment points on each side are too far apart. You have to align the slingshot perfectly the same way every time, else your accuracy goes down the gutter. Second, draw weight alone is of little use. A slingshot with, say, tapered flat bands will easily outshoot a slingshot that uses large-diameter, untapered rubes with huge draw weight.
The "Plastic" is a simple molded plastic slingshot. It mostly sold as a fishing bait slingshot, but Megaline also equips it with a one-piece molded rubber band. Said band is of very poor quality, but the slingshot frame itself can be retrofitted with better bands, and is then a decent slingshot for budget-minded shooters who like to have a slim pocket slingshot.